20+ YEARS OF EXPERIENCE
Architectural engineering degree with 20+ years of design experience
CUSTOMIZABLE PACKAGES
Pricing starts at $125/hour allowing you to customize the level of support to meet your needs.
VISUALIZE THE DESIGN
3D rendering to help you visualize the design
THINK OF ME AS YOUR DESIGN INSURANCE
As someone who has recently gone through a large renovation on my own home, I understand the ins and outs of construction – from both the homeowners perspective, and the needs of contractors.
I respect the fact that you have a design vision and want to be part of the process, so we will work together to bring that design to life. Once we have a direction, my job then becomes a contractor coordinator to ensure your design is not compromised.
Here's how we'll work together:
Consultation to discuss your design vision, needs and wants.
You will receive a scope of work outlining the specifics of the project with estimated hours and pricing.
We'll work together to refine the design, and end with a 3D rendering of our final concept.
Once you approve the plan, we'll start the pre-construction process of finding a contractor (if needed) and ordering finishes and furnishings.
You supply the inspiration
and I'll bring to the table:
Extensive sample library of tile, wallpaper, paint, metals, fabrics, countertops. Exclusive discounts at most major retailers.
Exclusive furniture, decor and construction material discounts
Extensive lighting design knowledge
Budget & contractor coordination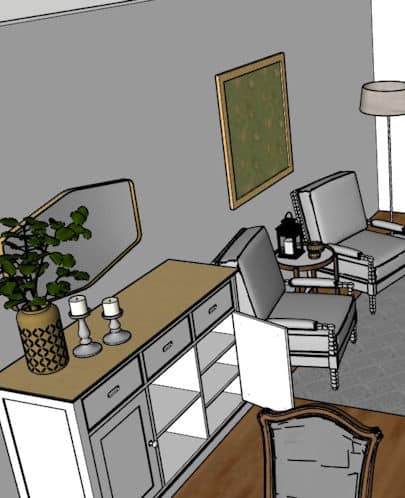 Shopping trips, ordering and return support
My cost is only 1-2% of the total project, and I save you the
headache of space planning and searching store aisles for the perfect finishes.
Contact me today and let's bring your vision to life